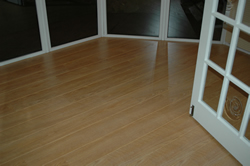 There are a number of reasons why you want to lay a laminate floor, these include:
Laminate floors are hardwearing
Laminate floors are low maintenance
Laminate floors are attractive, modern and complement any style of home.
However, there are a couple of things that you should consider before buying and laying a laminate floor:
They are ideal for all ground floor living areas and hallways.
They are not good for bathrooms as the boards may swell if they absorb water. Kitchens may also be a problem if a lot of water gets on the boards.
Laminate floors are protected with a tough lacquer, however they can be scratched by grit.
Bear in mind that a laminate floor is also noisier than a soft flooring and the sound could annoy neighbours if you live in a flat. Some flats have covenants prohibiting you from fitting hard floors. In any case we advise you to use a thick underlay.
If you are fitting a laminate floor on the ground floor its worth considering getting an insulating underlay to help keep the room warm.
Laying a laminate floor