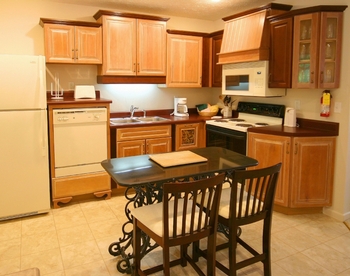 For many people, the thought of redecorating their kitchen can be frightening. They start thinking that they need to replace everything in order to get a whole new look. But this they do not need to do, by just following a few or all of the tips provided below, you should be able to create something new for next to nothing.
Instead of replacing the cabinets in your kitchen, why not repaint them? There are many techniques around which are easy to learn and will provide your cabinets with an expensive designer look. Such techniques as crackling, faux finishing and glazing are not only simple to do, but will save you money. If you need help on looking for ways to up date old and tired kitchen cabinets, then take a look on the internet.

Provide your kitchen walls with a new lick of paint. By painting your walls in warm and inviting colours, you will make the room even more of the hub of the home. Plus, if you have good quality wooden cabinets, a new coat of paint will help the wood to appear richer.


Why not spend a little of your budget on purchasing some new hand towels and potholders that will match the colour of your new décor?


Another simple and easy tip for redecorating your kitchen, and will cost you nothing, is to get beautiful dishes and glassware out of the cupboards, and use them to accentuate the kitchen.


But a great way of changing the whole décor of your kitchen is by putting up new curtains. You could try this first before you do anything else. They will help to create a fresh new look to your kitchen, and they certainly will not break the bank. Plus, you may well find that just making this one change will give your kitchen a completely different look. By changing your curtains, you could actually bring out the personality of the kitchen with little or no effort on your part.


Why not use fabric in your kitchen? If you have appliances that you wish to hide, then using a fabric is a cheap and cost effective way of doing this. Just get some material that co-ordinates with the décor of your kitchen, and some wire and hooks, and then just place the fabric in front of the appliance. Hey, presto, it's covered up, and the fabric provides a new dimension to your room. Plus, if it should get dirty, all you need to do is take it off and put it in the washing machine and wash it.


Why not consider replacing the cabinet doors. There are many companies around which provided many different designs, colours and shapes of kitchen cabinet doors. This is a much more cost effective way of giving your kitchen a whole new look without actually having to replace the whole cabinet.


Also why not just replace the ironmongery on your cabinet doors, and get new handles? Just by doing this you will be giving your kitchen a whole new look.


One other affordable way of making your kitchen look different is by adding a kitchen island. They not only provide you with more counter space, but they provide a place where people can gather. However, for those of us on a budget, instead of getting a permanent one, why not instead consider getting a kitchen trolley? Because they are on wheels, when not being used they can be put away, and so leave you with room in your kitchen.


Finally, if your kitchen redecorating budget is so small that you would be unable to do any of the above. Then why not think about replacing the backsplash instead. Just by doing this, you can really dress up that drab and dull kitchen that you have. The great thing about backsplashes is that they now come in a variety of different colours and materials, as well as styles. But how much you spend on this will depend on what material you select for it.
As you can see, redecorating your kitchen on a budget can be as simple as just giving the walls a new coat of paint, or changing the existing hardware or doors on your cabinets. But just by making one small change to your kitchen you can give it a whole new look.