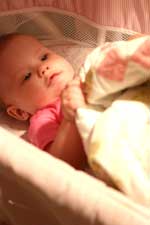 All new parents, have a vision of what their baby's room should look like. But really, is there any need for you to spend £1,000's in order to decorate and furnish a space that, in a couple years, they will have outgrown? In fact, you do not need to spend a fortune of decorating a room for that new arrival.
In this section, we will look at several different ways in which a nursery can be decorated no matter how small your budget is.
Instead of using wallpaper, paint the room instead. Why not choose colours which will co-ordinate with the baby's toys, rather than going for the traditional colours? Also, why not invite friends and family round and get them to dip their hands into a pot of paint and place their handprints on the wall? They could even sign their names underneath if they want. Doing it this way, your baby will get to enjoy a brightly coloured room full of contrasting patterns. This is of especial appeal to young infants. Also, it is an interesting way of introducing them to those people who will be important in their life as they grow up.


You do not have to be artistically inclined, but if you want, why not add some stencil designs to the walls? This is inexpensive, as well as an easy way of adding different elements and features to a baby's room. However, it is best to choose stencils which will match the theme of the room.


Where the floor is concerned, make sure that you have a stain resistant carpet, or just have hardwood floors with some scatter rugs on it. But if you already have carpet lay and you are worried that it may not stand up well, then why not get an area rug which will cover and protect it?


When you are decorating a nursery, why not consider buying some pieces second hand or used instead? The advantage to this is that you may find items that are of a higher quality than you would normally purchase. Or it may be you find a vintage piece of furniture, which you can then refinish to match the décor of the nursery.


Consider getting an old, second hand chest of drawers, and then paint with a high gloss paint, and then replace the handles on it?


Also, consider buying a piece of furniture that can be used for many different things. Do not spend money on buying a changing table, rather, buy yourself a dresser that is about waist high, and sit a changing mat on top. Then fill the drawers with all your nappy needs. In order to stop the pad from slipping, place a small bath mat with rubber backing face down underneath it. Then, once the child is older, the chest of drawers can be used as it was intended.


Instead of spending large amounts of money on buying storage boxes for your nursery, why not use baskets and shelves instead to store toys and other infant essentials?
There are many decorating ideas around for nursery and which will save you money. Hopefully, the ideas above will help you when making decisions on how to decorate a nursery on a small budget.