Fitting a loft ladder - Fitting a loft ladder helps you make effective use of the extra storage space of your loft much easier and reduces the risk of damaging walls moving ladders around.
There are different types of loftladders and many are fairly simple to install.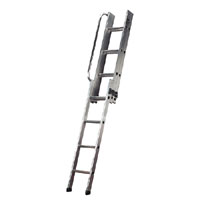 Aluminium loft ladders tend to be the cheapest but are noisier than wooden versions. Some of the more expensive ladders have side handrails and a spring action which automatically closes your loft hatch - Buy online
Cheaper loft ladders are generally made of lightweight aluminium which either fold into two/three sections or concertina downwards. Concertina loft ladders are easier and quicker to install and use less loft hatch space. However, these types of loft ladders are not so convenient to use as the more traditional loft ladders. - Buy online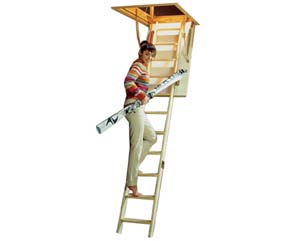 Wooden Loftladders are more expensive but feel more solid and secure. They tend to be quieter than the metal types. - Buy online
Fitting a loft ladder
Fitting an aluminium loft ladder is pretty stright forward. However, before you purchase check that you have enough clearance above and in front of the loft hatch within the loft. Modern trussed rafter roofs can sometimes have restricted space.
We always recommend thouroughly reading the instructions before you start to make sure you fully understand what you need to do and to make sure that you have all the parts.
Here is a general guide as to the steps required:
attach the metal loft ladder brackets to the inside of the loft - make sure thay are screwed to a boarded loft floor or directly on to the joists.
make sure the loft ladder folds up and down smoothly and will stay in place when the hatch is closed.
Make up a new loft hatch if you have had to modify the size or re-fit the existing hatch with hinges. You might find it more convenient to purchase a pre made loft hatch. Some of these are insulated and look very smart.
Ensure the loft ladder works smoothly - slide it up and down a few times, if it makes noise or seems to be sticking a little you can rub candle wax along the metal sliding sections of an aluminium loft ladder. This will help it to run smoothly.
We advise that you take the opportunity to insulate your loft hatch - however, make sure that the insulation does not interfere with the loft ladder moving.
Compare prices of: