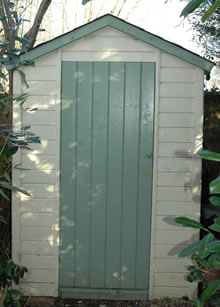 Add up the value of your garden tools and you would be surprised as the total cost could well exceed £2000.
Also there are often too many of them to fit in to your garage which already has great demand for the space of house hold items.
Many of the standard sheds that you buy at the local garden centre are often made from thin lap boards and they can let the moisture in which accelerates the corrosion of your valuable tools.
The unique feature of the shed pictured above which makes it so different from others is that that it is insulated and this has proven results that because of its design and damp proofing the tools that are stored in it stay in remarkably good condition prolonging their life..
Our guide will show you in detail the steps needed to build a high quality, insulated garden shed like the one in the picture. A 16 page downloadable e-book in pdf format is available for just £4.99 including VAT.
Here is just some of the steps you will learn...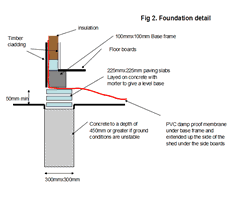 Preparing the site
Preparing the foundations
Building the walls
Making the doors and windows
and plenty more
There are photographs and helpful diagrams through out.
You can buy this e-book using the link below. Once you have paid using the paypal link your book will be emailed to the email address registered on your paypal account.
Usually you will receive your ebook with in a few minutes but if for some reason after 24 hours you have not received it let us know and we will send you the link where you can download it.