As mention in other sections programming of the work is vital to the planning of your project. There is an old saying in the Construction Industry that for every pound of time spent on the drawing board one thousand pounds is saved on site construction by getting it right first time.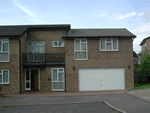 Picture of two storey garage project

To prepare the programme you can use a bespoke package such as Microsoft Project Manager which is detailed and allows you to enter each task in detail on an hour or daily basis. You do not necessarily have to go into that detail. The example shown below is a programme set out for a two storey garage extension. The work entailed knocking down an existing garage and rebuilding with an extra floor on top to make an activities room and bathroom.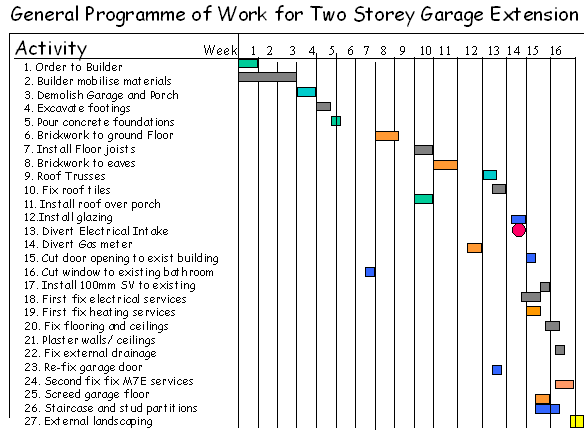 Points to consider
Some of the tasks are critical to each other and these are some of the things you must consider when preparing your programme.
Make sure that the Electricity, Gas and water services will be available when you need them

Will the shut down periods for services be acceptable to the users

The sequence of the work allows sufficient access to the site

Lead times for ordering materials and for specialist contractors are factored in. Give a copy of the programme for their comments so they cannot say other facilities should have been available when they are not planned to be complete.

Some work will have to be completed in stages eg. Electrical work first fix will mean that basic cable runs can be installed but not the final accessories, these are fixed later when building is more complete.

Work should be scheduled so that future work will not damage the completed work. If this is a risk then you need to factor extra time and cost to adequately protect the work.
Remember some work cannot be completed if the building is not weather tight
Running in parallel
In the example programme shown you can quickly see which tasks are dependant on each other and if time can be saved by running work in parallel.
Again the programme should be used as the work is progressed so that you can advise those involved in sections of the work if their time slot changes either by being delayed or brought forward.
By using this technique you will ensure that you have a project completion on time and more likely to be on budget